Research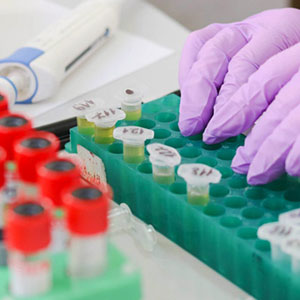 As a distinguished leader in the field of virology, IHV has a unique and promising HIV/AIDS vaccine candidate designed to neutralize many of the different strains of HIV found around the world from the moment of infection - which IHV believes is a major prerequisite for a successful HIV vaccine.
IHV scientists are also agressively pursuing the mechanisms by which other viral diseases attack human cells and spread throughout the body. Research efforts focus on prevention and biological treatments that are potentially less toxic, less costly and more easily accessible to the world at large.
As we continue to see breakthroughs in anti-retroviral medicines, AIDS patients with access to health care are no longer dying from opportunistic infections like we saw in the early days of AIDS, but in many cases now, from cancer and other non infectious co morbidity. It is important for the scientific community to identify cancers associated with infectious diseases such as HIV and in this regard, IHV has a world-renowned viral oncology program and works closely with the National Cancer Institute to research malignancies associated with viral infection.
IHV's extensive global network includes an on-ground presence in 1 Caribbean and 6 African nations allowing it to closely monitor the HIV/AIDS pandemic and associated diseases such as TB in these countries, and numerous research collaborations in countries such as China, Italy and France.
The IHV brings a full range of patient problems to the laboratory investigator, ideas from clinical providers to the lab scientists and, in turn, quick application of basic research discoveries to the patient. It's a new paradigm that allows us to speed the pace of discovery - and the benefit to real-life patients.
---
Research Divisions
Virology, Pathogenesis and Cancer (VPC)
Research programs defining the molecular basis of infection and immunity and developing novel therapies and treatments of infectious disease, immune dysregulation, inflammatory disorders, and cancer.
Vaccine Research
Dedicated to the development of a safe and effective vaccine against HIV-1. Research in the division focuses on the basic virology, immunology, cell biology, and structural biology of the outer HIV-1 envelope glycoprotein, gp120.
Clinical Care & Research
Provides care and support for people living with complicated viral and infectious diseases.
Immunotherapy
Focuses on immunotherapy for cancer, immunological diseases, and viral infection.
Epidemiology & Prevention
Aims to support the identification, reduction, and eradication efforts for HIV/AIDS, other infectious diseases, and cancer in populations in Baltimore and around the world by deploying innovative research studies.
---
Core Facilities