IHV Fact Sheet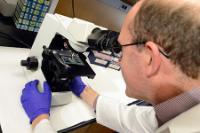 The Institute's research currently centers on AIDS, but also includes a number of chronic viral illnesses and cancer research. An underlying research emphasis is to utilize the natural chemistry of the body to develop biological approaches to therapy and treatment that may be less toxic than drugs currently available for treatment. Because of IHV's unique multi-disciplinary approach, scientists have been able to fast-track research from concept to clinical trial in less than 18 months.
Since 1996:
IHV staff has grown from 50 to more than 300 and the Institute's patient base has grown from just 200 patients to approximately 6,000 in Baltimore and Washington DC, and more than 2,000,000 in African and Caribbean nations.
The IHV's total budget has increased from several million dollars in 1996 to more than $105 million today. There has been a corresponding increase in sponsored research, from $2 million to more than $105 million. The Institute has been awarded 105 patents -- for the development and use of transgenic rats, finding small proteins that kill tumor cells, chemokines that inhibit HIV infection, bacterial delivery systems for DNA vaccines and the development of new immune "boosters" to augment vaccines, among other developments.
The IHV has positioned itself as one of the world's premier research and development operations. Its scientists have identified new anti-HIV suppressive factors and have pioneered a novel oral vaccine delivery system that uses attenuated Salmonella bacteria to efficiently deliver vaccine encompassing a greater number of viral genes to stimulate a vaccine response. Basic vaccinologists also have engineered a vaccine construct that generates the broadest HIV-neutralizing antibody responses achieved to date. These technologies offer the potential for a single vaccine that may be effective against a broad range of HIV strains.
The Institute also has successfully created the first transgenic rat whose DNA incorporates genes of HIV-1, the virus that causes AIDS. This patented creation allows scientists a new way to study mechanisms of the development of AIDS. The IHV has developed a nude transgenic rat model to provide an in-vivo approach to study T-cell immunodeficiency, non AIDS cancers and opportunistic organisms in the HIV-1 setting. The biomedical development will also provide a more consistent, reproducible model for the study of pathogenesis in HIV-1/AIDS and better mimics the disease seen in AIDS patients. The Institute's Animal Models Division has been instrumental in supporting research on vaccine development for AIDS using non-human primates. Additionally, the Division has been instrumental in development of the Humanized mice models for AIDS and AIDS-associated cancers.
IHV's Clinical Research Program undertakes a broad range of treatment research including a substantial portfolio of sponsored research. This is an indication of the confidence that major pharmaceutical and biotech companies (e.g. Merck, Schering, Aventis, Gilead, Human Genome Sciences) have in the Institute.
Among the 5,000 patients currently receiving care through the IHV's local Clinical Care Program, 500-700 are uninsured and underinsured, thus serving those at greatest risk and in greatest need. When the Institute was founded, fewer than 800 patients received HIV care and there was a gap in access for underserved minorities that has been filled through extensive community outreach and education efforts of the Institute.
The Institute hosts an annual international AIDS conference that is consistently highly rated because of its strong basic science emphasis. The meeting draws hundreds of top scientists from around the world and provides a unique forum for scientific exchange. IHV-sponsored conferences have generated more than $10 million in added revenue for the local economy since 1996.