Key and Vulnerable Populations
High-risk men and women and HIV-exposed uninfected children are the focus of many of the Division's studies designed to improve lives through science-driven change.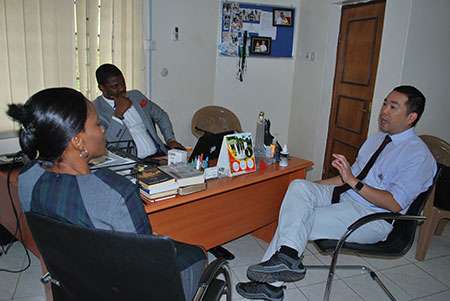 A recent study investigating optimal strategies for addressing gaps in treatment and prevention among men who have sex with men (MSM) in Nigeria found that the MSM are disproportionately impacted by HIV burden with a prevalence of 45.0%, 10 fold higher than in the general population. Using community participatory approaches, we have one of the largest cohorts of MSM in sub-Saharan Africa in which we are collecting longitudinal risk behavior information and bio-specimens. By using the treatment as prevention (TasP) approach, we have shown that respondent driven sampling can be used to target ARV-based prevention, and in this study, we demonstrated that the majority of individuals engaged in TasP can be retained in care.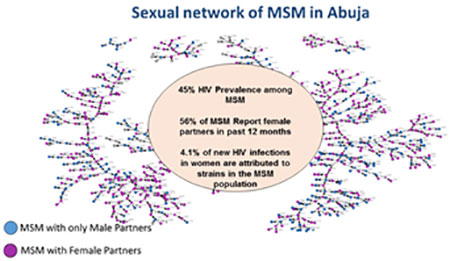 These findings have critical implications for improving rates of diagnosis and treatment, and the ability to monitor response to treatment. In a new study, continuing with this MSM cohort, we are investigating the use of pre-exposure prophylaxis (PrEP) to prevent forward transmission. This study investigates the interpersonal, network, structural barriers and characterizes HIV transmission networks using phylodynamic epidemiology. Phylodynamic epidemiology allows us to look at the forward transmission trends of HIV to the general population through MSM and female partners as depicted in the netdraw picture of the sexual network of our cohort of over 600 MSM in Abuja, Nigeria.
Our Division has a long-standing history of maternal-child health studies in the prevention of mother to child transmission of HIV (PMTCT) and the growth and development of HIV-infected infants in the U.S. and abroad. We are investigating proteins of breast milk. Toll-like Receptor 2 (sTLR2), from HIV-infected and uninfected women that may prevent viral entry, potentially minimizing mother to child transmission. The sTLR2 binds to HIV-1 proteins. TLR2 regulates the expression of chemokine receptor 5, an important entry molecule for HIV.
The benefits of natural immune factors in breast milk may explain the adverse consequences of "mixed" feeding of African infants. Evidence from early studies on the feeding practice of HIV infected mothers with uninfected babies helped lead the WHO recommendation of exclusive breast-feeding as a safer feeding alternative for HIV positive mothers.
Other studies engage female sex workers (FSW) into HIV care and treatment. The HIV prevalence among FSWs and their clients are often 10-20 fold higher than the general population and approximately 90% of FSW are not accessing treatment for their HIV. We work with local civil society organizations to design and implement interventions that link community members to facilities that support longitudinal HIV care. We promote early intensive engagement through mobile service delivery of Treatment as Prevention (TasP) and monitor the level of infectiousness within the population using mobile point of care viral load technologies.
Key community members then serve as navigators for our clients to strengthen linkage to standard care and maintain viral suppression. With aggressive interventions to engage and retain key populations into HIV services, HIV transmission rates will reduce and our path toward an AIDS-free generation is more promising.