IHV Lifetime Achievement Award
2023 IHV 25th Anniversary Lifetime Achievement Award for Scientific Contributions and Drug Development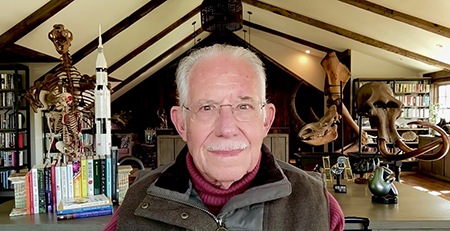 William Haseltine, PhD, is an American scientist, businessman, author, and philanthropist. He is known for his groundbreaking work on HIV/AIDS, the human genome, and the COVID-19 pandemic. He was a Professor at Harvard Medical School, where he founded two research departments on cancer and HIV/AIDS.
Dr. Haseltine helped create the biotechnology companies ProScript Inc. that developed a treatment multiple myeloma and other cancers, and Dendreon that developed the first approved cell-based cancer therapy for treating metastatic prostate cancer. Haseltine co-founded Human Genome Sciences, which developed a number of drugs for treating diabetes and its complications, cancers, obesity, and anthrax.
After completing the sequence of the HIV genome, Dr. Haseltine's laboratory then showed that damage to certain viral genes killed the virus, identifying good antiviral drugs. The first HIV-specific protease inhibitor, Nelfinavir, was developed as a part of a collaboration between the Haseltine laboratory, Cambridge BioSciences — another company founded by Dr. Haseltine —, and Agouron Pharmaceuticals. He founded additional biotechnology companies including The Virus Research Institute, LeukoSite, Diversa, X-VAX, and Demetrix.
Dr. Haseltine successfully advocated for Congress to HIV/AIDS research through the NIH. He publicly advocated for destigmatizing HIV infection. He played an important early role in creating the International Society for AIDS Research, now the International AIDS Society, and was the Founding Editor of the scientific journal AIDS Research and Human Retroviruses. Dr. Haseltine went on to co-found E-Biomed: The Journal of Regenerative Medicine and The Society for Regenerative Medicine to help expand the field of regenerative medicine.

Committed to philanthropy, Dr. Haseltine founded two non-profit foundations. He is President of the Haseltine Foundation for Science and the Arts, and Chairman and President of ACCESS Health International, an organization dedicated to improving access to high-quality health outcomes worldwide through medical technology. In 2001 he was listed by Time Magazine as one of the world's 25 most influential businesspeople, and in 2015 by Scientific American as one of the 100 most influential leaders in biotechnology. He is the author of more than two hundred peer-reviewed manuscripts and fifteen books.
---
Past Awardees
Select an award to see a list of recipients from previous years.
Lifetime Achievement Award for Scientific Contributions
1999: George Klein, MD, Karolinska Institute, Stockholm, Sweden
2000: Maurice Hilleman, PhD, Merck Research Laboratories, Sumneytown, Pennsylvania, USA
2001: Hilary Koprowski, MD, Thomas Jefferson University, Philadelphia, Pennsylvania, USA
2002: Alexander Rich, MD, Massachusetts Institute of Technology, Cambridge, Massachusetts, USA
2003: Jan Svoboda, PhD, DSc, Institute of Molecular Genetics, Prague, Czech Republic
2004: Paul Zamecnik, MD, Massachusetts General Hospital, Boston, Massachusetts, USA
2005: Manfred Eigen, PhD, Max Planck Institute, Göttingen, Germany
2006: Maxine Singer, PhD, National Institutes of Health, Bethesda, Maryland, USA
2008: Isaac P. Witz, PhD, Tel Aviv University, Tel Aviv, Israel
2010: Rino Rappuoli, PhD, Novartis Vaccines, Sienna, Italy
2011: Max Essex, DVM, PhD, Harvard AIDS Institute, Boston, Massachusetts, USA
2012: Thomas A. Waldmann, MD, National Cancer Institute, Bethesda, Maryland, USA
2013: Vadim I. Agol, MD, PhD, DSc, Russian Academy of Medical Sciences, Moscow, Russia
2014: William Paul, MD, National Institute of Allergy and Infectious Diseases, Bethesda, Maryland, USA
2015: Harald zur Hausen, MD, Nobel Laureate, Gelsenkirchen, Germany
2016: Peter Vogt, PhD, Scripps Research Institute, La Jolla, California, USA
2017: Peter Palese, PhD, Icahn School of Medicine at Mount Sinai, New York, New York, USA
2019: Warner C. Greene, MD, PhD, Gladstone Center for HIV Cure Research
Lifetime Achievement Award for Public Service
2004: Stewart Greenebaum, Greenebaum and Rose Associates, Inc., Baltimore, Maryland, USA
2006: Martin Delaney, Project Inform, San Francisco, California, USA
2008: John D. Evans, Evans Telecommunication Company, Miami, Florida, USA
2008: The Honorable Robert K. Gray, Gray and Company II, Miami, Florida, USA
2010: Harry Huge, Esq., The Harry and Reba Huge Foundation, Charleston, South Carolina, USA
2011: Bernadine Healy, MD, In Memoriam, Former Director National Institutes of Health, Bethesda, MD, USA
2012: Yi Zeng, PhD, China Centers for Disease Control, Beijing, China
2013: José G. Esparza, MD, PhD, Bill & Melinda Gates Foundation, Seattle, Washington, USA
2014: John Martin, PhD, Gilead Sciences, Inc., Foster City, California, USA
2015: Anthony S. Fauci, MD, National Institute of Allergy and Infectious Diseases, Bethesda, Maryland, USA
2016: Ray Schinazi, PhD, Hon DSc, Emory University, Atlanta, Georgia, USA
2017: Quarraisha Abdool Karim, PhD, CAPRISA, Durban, South Africa
2017: Salim S. Abdool Karim, MBChB, PhD, DSc, CAPRISA, Durban, South Africa
2019: The Honorable Parris N. Glendening, Smart Growth America's Leadership Institute, Governors' Institute on Community Design
2019: The Honorable Kathleen Kennedy Townsend, Economic Policy Institute
One-Time Lifetime Achievement Award for Excellence in Teaching
2010: Michele LaPlaca, MD, Institute of Microbiology of the University of Bologna, Bologna, Italy
Lifetime Achievement Award for Excellence in Medical Education, Clinical Care, and Clinical Research
2012: John G. Bartlett, MD, Johns Hopkins Bloomberg School of Public Health, Baltimore, Maryland, USA
2018: Henry Masur, MD, Chief of Critical Care Medicine Department, NIH Clinical Center, Bethesda, Maryland, USA
Lifetime Achievement Award for Excellence in Clinical Research
2018: Kiyoshi Takatsuki, MD, PhD, Professor Emeritus, Kumamoto University, Kumamoto, Japan