IHV2018
Monday, October 22 - Thursday, October 25, 2018
Four Seasons Hotel, Baltimore, Maryland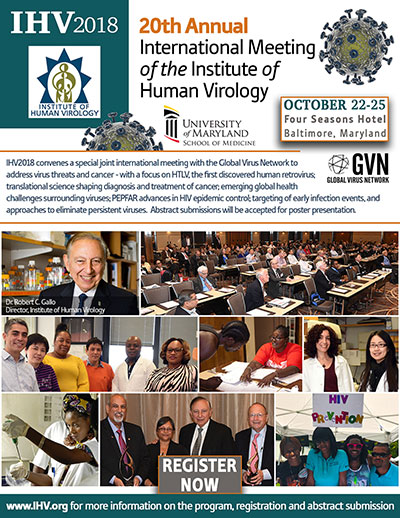 Dear Colleagues and Friends,
You are invited to join us on Monday, October 22 through Thursday, October 25 for IHV2018, "Virus Threats and Cancers – A Special Joint International Meeting of the Institute of Human Virology and the Global Virus Network." Sessions for this year's meeting will focus on:
The 40th Anniversary of the Discovery of the First Human Retrovirus, HTLV
Exosomes in Health and Disease
Cancer Immunology
Cancer Epigenetics
Cancer Microenvironments
Viruses, the Emerging Global Health Challenge
PEPFAR: Towards HIV Epidemic Control
Targeting Early Infections
Approaches to Eliminate Persistent Viruses
Early stage investigators are invited to submit research abstracts for poster presentation – please share this opportunity with your faculty and colleagues.
A special mini-symposium, "The 15th Anniversary of PEPFAR" will honor PEPFAR as the largest public health program in global history, and its sustainable impact on global health priorities.
A special symposium on Wednesday, October 24 will honor this year's IHV Lifetime Achievement Awardees and will be followed by the Annual Awards Gala at the Four Seasons Hotel Baltimore. A gala reception will begin at 6:30 p.m. followed by dinner at 7:15 p.m. This year's awardees are:
Lifetime Achievement Award for Excellence in Medical Education, Clinical Care and Clinical Research:
Henry Masur, MD
Chief of Critical Care Medicine Department, NIH Clinical Center
Lifetime Achievement Award for Excellence in Clinical Research:
Kiyoshi Takatsuki, MD, PhD
Professor Emeritus, Kumamoto University
We look forward to welcoming you to Baltimore this October as we continue our annual tradition of excellent science and provocative discussion.
Sincerely,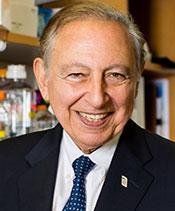 Robert C. Gallo, MD
Homer and Martha Gudelsky
Distinguished Professor in Medicine
Director, Institute of Human Virology
Co-Founder and Director, Global Virus Network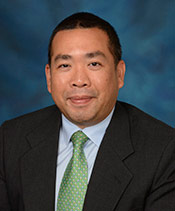 Manhattan Charurat, PhD
Director, Division of Epidemiology and Prevention
Professor of Medicine, Institute of Human Virology