Annual International Meeting of the IHV
By: Robert C. Gallo, MD, The Homer and Martha Gudelsky Distinguished Professor in Medicine, Co-Founder and Director, Institute of Human Virology and Manhattan Charurat, PhD, Director, Division of Epidemiology and Prevention and Associate Professor of Medicine, Institute of Human Virology
Dear Colleagues and Friends,
Welcome to the 19th Annual International Meeting of the Institute of Human Virology (IHV), scheduled for Monday, October 23, 2017 through Thursday, October 26, 2017 in Baltimore, Maryland.
The Annual Meeting will feature themes on HIV "Cure" Research, Preventative and Therapeutic Vaccines, Immunology and Viral Pathogenesis, Public Health Science and Responses – Local and Global, Advances in Clinical Virology – Cardiovascular and Liver Complications of Viral Infections, and an increased focus on cancer research with sessions including Emerging Concepts in Cancer Therapy, Cancer and Stem Cells, and Infectious Agents and Cancer. To provide opportunities for junior investigators to present, we are emphasizing submission of research abstracts through our web portal - so please share this opportunity with your faculty. As is our tradition, scientific leaders at the cutting-edge of new advances will present special lectures on important, emerging topics.
We have also scheduled a special mini-symposium to honor this year's IHV Lifetime Achievement Awardees Quarraisha Abdool Karim, PhD, Associate Scientific Director, Centre for the AIDS Program of Research in South Africa (CAPRISA), and Salim S. Abdool Karim, MBChB, PhD, DSc, Professor for Global Health, Department of Epidemiology, CAPRISA, and Peter Palese, MD, Horace W. Goldsmith Professor of Medicine, Chair of the Department of Microbiology, Professor of Microbiology and Medicine, Icahn School of Medicine at Mount Sinai. This symposium will feature the fourth annual Reinhard Kurth Memorial Lecture by Peter Palese, MD, and special lectures from U.S. government officials including Ambassador Deborah Birx, MD, Coordinator of the United States Government Activities to Combat HIV/AIDS and U.S. Special Representative for Global Health Diplomacy and Anthony Fauci, MD, Director, National Institute of Allergy and Infectious Diseases.
The IHV 2017 Lifetime Achievement Award for Public Service will be co-presented to Quarraisha Abdool Karim, PhD, and Salim S. Abdool Karim, MD, PhD.
Dr. Quarraisha Abdool Karim is an infectious diseases epidemiologist whose main research interests are in understanding the evolving HIV epidemic in South Africa; factors influencing acquisition of HIV infection in adolescent girls; and sustainable strategies to introduce antiretroviral therapy in resource-constrained settings. She was the Principal Investigator of the landmark CAPRISA 004 tenofovir gel trial which provided proof of concept for Microbicides, highlighted by Science as one of the Top 10 scientific breakthroughs in 2010. Dr. Karim will be honored by Sten Vermund, MD, PhD, Dean and Anna M.R. Lauder Professor of Public Health, Professor of Pediatrics, Yale School of Medicine, Yale University School of Public Health.
Dr. Salim S. Abdool Karim is a clinical infectious diseases epidemiologist widely recognized for his ground-breaking scientific contributions in HIV prevention and treatment. His contributions to microbicides for HIV prevention spans two decades and culminated in the CAPRISA 004 tenofovir gel trial which provided proof-of-concept that antiretroviral drugs can prevent sexually transmitted HIV infection and herpes simplex virus type 2 in women. He is co-inventor on patents which have been used in several HIV vaccine candidates and his clinical research on TB-HIV treatment has shaped international guidelines on the clinical management of co-infected patients. Dr. Karim will be honored by John Martin, PhD, Executive Chairman, Gilead Sciences.
This year's IHV 2017 Lifetime Achievement Award for Scientific Contributions will be presented to Peter Palese, MD.
Dr. Peter Palese's research includes RNA-containing viruses with a special emphasis on influenza viruses. He established the first genetic map for influenza A, B, and C viruses, identified the function of several viral genes, and defined the mechanism of neuraminidase inhibitors (which are now FDA-approved antivirals). He was also a pioneer in the field of reverse genetics for negative strand RNA viruses. His laboratory's research is currently focused on the development of a universal influenza virus vaccine and oncolytic viruses. Dr. Palese will be honored by Bernard Roizman, ScD, Joseph Regenstein Distinguished Service Professor of Virology at Viral Oncology Laboratories, The University of Chicago.
The Annual Awards Gala well be held Wednesday, October 25 at the Four Seasons Hotel, Baltimore. A gala reception will begin at 6:15 p.m. followed by dinner at 7:00 p.m.
We welcome you to Baltimore – home of the IHV – and look forward to you joining us at the elegant Four Seasons Hotel located in Baltimore's enchanting urban setting and internationally renowned Inner Harbor, which is just a short distance from the National Aquarium the Maryland Science Center.
Meeting participants will find a range of shopping, dining, and cultural venues in this bustling city locale, nicknamed "Charm City" for its historic prominence and delightful red brick row house neighborhoods and sparkling skyscrapers.
We look forward to the IHV 19th Annual International Meeting continuing the tradition of excellent science and provocative discussion.
Sincerely,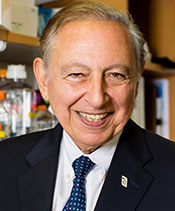 Robert C. Gallo, MD
Homer and Martha Gudelsky
Distinguished Professor in Medicine
Director
Institute of Human Virology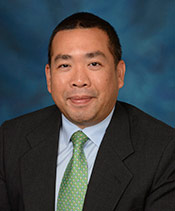 Manhattan Charurat, PhD
Director
Division of Epidemiology and Prevention
Professor of Medicine
Institute of Human Virology