Program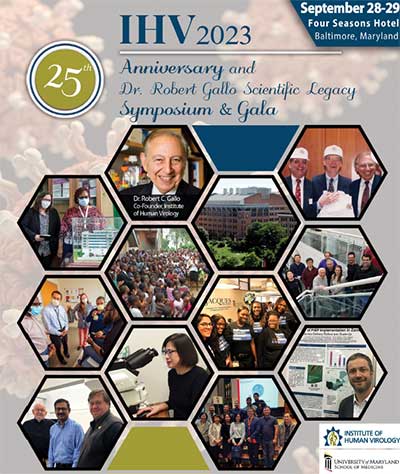 Program Overview
IHV2023 will celebrate the Institute of Human Virology's 25th Anniversary (previously delayed due to COVID-19) and the Robert Gallo Scientific Legacy with a special symposium aptly devoted to the science of viruses.
The event opens with a session, "Viruses of Yesterday," a retrospective of viruses over the years and how they have informed subsequent research in the field. Presentation topics include chronic neurological disorders after infection with HTLV-1 and the correlation between viruses and the etiology of neurological diseases; measles and immunity/immunosuppression; HIV versus COVID perspectives for control of viruses in the world; and PEPFAR's major global achievements and models for new forms of medical relief for poorer countries.
An afternoon session, "Viruses of Today," describes scientific advances that led to the creation of mRNA vaccines and their testing and production for worldwide use. Talks will include research on control of viral disease through vaccines, COVID proteins and COVID molecular biology, and national warning systems to track new epidemics and pandemics.
Day 2 of the symposium begins with a session on "Viruses of Tomorrow," and will explore mpox (formerly monkeypox), adenovirus and associated hepatitis, filoviruses of epidemic potential, and research focusing on diagnostic approaches against "new" pathogens and new, improved technologies to identify "old" pathogens.
The final session, "New Treatments for Viral Disease," details groundbreaking clinical trials of new drugs to treat HIV, hepatitis B and C, and substance abuse; novel antiviral therapy for HIV infection; curing HIV; the HIV macrophage reservoir, and why vaccines might not produce long-lasting immunity.
All sessions will be followed by a 30-minute round table discussion. The evening Gala Reception and Dinner will be held Thursday, September 28.
Additional program details will be added as they become available.
Day 1: Thursday, September 28, 2023
Topic: Viruses of Yesterday and Today
Session A – Viruses of Yesterday
Chairpersons and Discussants:
William Blattner, MD, Salt Run Global Health and Research
Man Charurat, PhD, MHS, Institute of Human Virology
Schedule:
9:00 AM
Welcome, Session Comments; One Man - Four Viruses HTLV-1, HTLV-2, HIV, Herpes 6
Speaker: Robert Gallo, MD, Institute of Human Virology, University of Maryland School of Medicine, U.S.
9:20 AM
Development of Vaccines for Herpesviruses
Speaker: Jeffrey Cohen, NIAID
9:50 AM
Measles in the 21st Century
Speaker: Diane Griffin, MD, PhD, Johns Hopkins University Bloomberg School of Public Health

Coffee Break, 10:20 AM - 10:30 AM
10:30 AM
PEPFAR's 20th Anniversary and its role in Pandemic Preparedness
Speaker: John Nkengasong, PhD, PEPFAR Ambassador
11:00 AM
Innate and Adaptive Immunity to Prevent SIV/HIV Infection
Speaker: Genoveffa Franchini, National Cancer Institute
11:30 AM
Round Table Discussion
Moderator: William Blattner, MD, Salt Run Global Health and Research
Lunch Break, 12:00 PM – 1:00 PM
---
Session B – Viruses of Today
Chairpersons and Discussants:
Peter Palese, PhD, Icahn School of Medicine at Mount Sinai
Susan Weiss, PhD, University of Pennsylvania
Schedule:
1:00 PM
mRNA/LNP: A Disruptive Technology for Infectious Disease Vaccines and Beyond
Speaker: Andrea Carfi, PhD, MSc, Moderna Genomics
1:30 PM
Human Coronaviruses Induce Diverse Interferon Signaling Responses in Primary Nasal Epithelial Cells
Speaker: Susan Weiss, PhD, University of Pennsylvania
2:00 PM
Challenges in Pan Betacoronavirus Countermeasure Design
Speaker: Ralph S. Baric, PhD, University of North Carolina at Chapel Hill
2:40 PM
Round Table Discussion
Speaker: Peter Palese, Icahn School of Medicine at Mount Sinai
3:15 PM
HIV vs COVID Perspectives on Success for Control of Viruses in this World
Moderator: Anthony Fauci, MD, NIH, National Institute of Allergy and Infectious Diseases (NIAID)
4:00 PM
Adjourn
6:00 pm
25th Anniversary and Robert Gallo Legacy Gala Reception
6:45 pm
Dinner
Day 2: Friday, September 29, 2023
Topic: Viruses of Tomorrow/New Treatments for Human Disease
Session C – Viruses of Tomorrow
Chairpersons and Discussants:
Christian Bréchot, MD, PhD, Global Virus Network
Robert Redfield, MD, Greater Baltimore Medical Center
Schedule:
9:00 AM
Monkeypox Infections, Therapeutics and Vaccines
Speaker: Rachel Roper, PhD, East Carolina University of Greenville, North Carolina
9:25 AM
Adeno-associated Virus 2 Infection in Children with Non-A–E Hepatitis
Speaker: Dr. Emma Thomson, University of Glasgow Center for Virus Research
9:50 AM
Antibodies Against Emerging Infections: A Global Collaboration
Speaker: Erica Ollmann Saphire, PhD, La Jolla Institute for Immunology
Coffee Break, 10:20 AM - 10:30 AM
10:30 AM
HIV Controllers as a Model for Therapeutic and Prophylactic Vaccines
Speaker: Bruce Walker, MD, Ragon Institute of Mass General, MIT, and Harvard
11:00 AM
Discovery of New Agents of Disease
Speaker: Gavin Cloherty, PhD, Abbott Infectious Disease Research and the Pandemic Defense Coalition
11:30 AM
Round Table Discussion and the GVN
Moderator: Christian Bréchot, MD, PhD, Global Virus Network
Lunch Break, 12:00 PM - 1:00 PM
---
Session D – New Treatments for Human Disease
Chairpersons and Discussants:
Warner Greene, MD, PhD, Gladstone Institute's Michael Hulton Center for HIV Cure Research
George Lewis, PhD, Institute of Human Virology

Schedule:
1:00 PM
Novel Antiviral Therapeutics for Hepatitis Viruses
Speaker: Shyam Kottilil, MBBS, PhD, Institute of Human Virology
1:15 PM
At the crossroads of viral infection of CD4+ T cells and mental health
Speaker: Howard Gendelman, MD, University of Nebraska College of Medicine
1:30 PM
Direct infection of microglia in human brain organoids induces inflammation leading to bystander neuron dysfunction and death: Implications for HIV-associated neurocognitive disorder (HAND)
Speaker: Warner Greene, MD, PhD, Gladstone Institute's Michael Hulton Center for HIV Cure Research
2:00 PM
HIV-1 Persistence in Myeloid Cell Reservoirs
Speaker: Mario Stevenson, PhD, University of Miami
Coffee Break, 2:30 PM - 2:40 PM
2:40 PM
Antibodies in HIV-1 Vaccine and Therapy
Speaker: Michel Nussenzweig, MD, PhD, Rockefeller University
3:10 PM
Round Table Discussion
Moderator: Warner Greene, MD, PhD, Gladstone Institute's Michael Hulton Center for HIV Cure Research
3:40 PM
The Future of the IHV
Speaker: Robert Gallo, MD, Institute of Human Virology
4:00 PM
Adjourn